Last updated: April 14, 2021
With a few simple keystrokes in a Google search, new entrepreneurs and startups can gain access to a wealth of resources, tools and information online regarding new business matters.
It's understandable that many new entrepreneurs and startups will be budget-conscious with the mindset of minimizing startup costs wherever possible.
It's also no surprise that new business owners are allured by the convenience and cost-friendly options of online DIY legal templates.
"It's cheap and I can draft them myself quickly without a lawyer!"
Which reminds us of the Iron Triangle…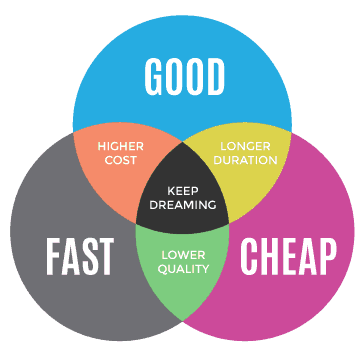 Fast, good, and cheap. Pick Two.
These online legal template websites' proposition is to have your legal documents done "cheap" and "fast".
But are they "good" for YOUR business?
As a new business owner, you should be cautious when considering drafting your own online legal documents. The vast majority of entrepreneurs and startups are much better served by having an experienced business lawyer assist them with their incorporation.
Importantly, the costs of getting proper legal assistance for your business can be very reasonable.
Templates Can't Replace Good Legal Counsel
Online legal templates only cover the standard issues of the agreement and not much else. These cookie-cutter forms tend to miss all the finer details that can be addressed by an experienced business lawyer.
Good legal counsel can also bring your attention to other important issues relevant to your business, that you may not have considered.
Many businesses and companies have unique concerns, which may require particular legal documents to be custom-tailored accordingly.
If you anticipate having ongoing legal needs or require drafting of several types of documents that are more complex in nature, an experienced business lawyer can help provide you with the necessary guidance to help you set up and grow your business.
New startups and small businesses should seek professional legal counsel when looking to draft legal documents in these areas:
Business Formation
Business Property Transactions
Asset Purchase Agreement
Share Purchase Agreement
Release Agreement
Employment
Non-disclosure Agreement
Non-competition Agreement
Wills & Estates
Power of Attorney
Trust Agreement
Selecting the Wrong Document
This happens often.
Individuals and businesses may inadvertently submit an incorrect form that does not reflect each party or parties' original intentions.
This can result in unforeseen legal consequences that may require more time and money to fix than if such matters were addressed properly by a lawyer from the beginning.
Common mistakes include but are not limited to individuals using forms from the wrong national, provincial, or municipal jurisdiction. E.g. A Canadian business owner downloading employment contracts from a US-based legal site.
Small Errors Can Result in Big Consequences
Generally, one modification in a clause, provision, amendment, etc. can lead to multiple changes across the document, potentially affecting its validity. 
Some of these changes may even force litigation between parties if there are no alternative resolutions sufficiently stated in their agreements.
Furthermore, be aware of other common contract mistakes that can also cost your business money.
Whether you create your legal document online or on paper, have it carefully reviewed by a lawyer before putting your signature on it.
Documents May Be Outdated Or Inaccurate
Individuals and businesses should be aware that online legal documents can be out of date, inaccurate or downright wrong.
As summarized by The Best Company of LawDepot – an online source for legal documents:
"As with many of the other online legal services, LawDepot does not mention whether their documents are fully reviewed by lawyers for up-to-date accuracy,…This means that it may be difficult to ensure that the documents that you receive from LawDepot are accurate and high quality."
Why take that chance and put your business at financial risk with legal forms that may not be current?
Ran Into a Problem With Your Document? Good Luck!
In addition to the above point, there's very little recourse for users who have a problematic document that they created from an online legal site.
Again, reading through LawDepot's disclaimer:
"Any guarantee on the Site is subject to our Terms and Conditions. For the most part, our Terms and Conditions specify that there is no guarantee or warranty and that we are not responsible for any loss, injury, claim, liability, or damage ("damages") related to your use of the Site, whether from errors or omissions in the content of the Site or any other linked sites. We are not responsible for any damages from the Site being inaccessible to the user and use of the Site is at your own risk. Refer to our Terms and Conditions regarding details of any exceptions such as our Quality Guarantee."
In other words, they do not take responsibility for errors in their content.
Online Legal Template Sites Don't Offer Legal Advice
As written in the disclaimer of most, if not all, online legal document sites, these entities are not law firms and do not provide any legal advice to users.
To continue with LawDepot as the example, they state:
"LawDepot® DOES NOT provide any legal advice and users of this web site should consult with their own lawyer for legal advice. This web site (the "Site") is a general service that provides legal information over the Internet. We are not a law firm and our employees are not acting as your attorney. The information contained in the Site is general legal information and should not be construed as legal advice to be applied to any specific factual situation. If you are unsure whether your particular situation requires that a document be changed, you should consult a lawyer. Any use of the Site DOES NOT create or constitute a solicitor-client relationship between LawDepot® or any employee of or other person associated with LawDepot® and a user of the Site. As the law differs in each legal jurisdiction and may be interpreted or applied differently depending on your location or situation, the information or use of documents on the Site is not a substitute for the advice of a lawyer."
Some of these legal sites can refer you to a lawyer, but they do not qualify nor guarantee the lawyer's experience or competence.
It's beneficial to do your own research on who is and isn't an experienced and reputable lawyer, and select a lawyer of your own choice.
Conclusion: Simply Not Worth the Risk
As you can see, there are many drawbacks to preparing your own legal documents through cookie-cutter style templates.
When you have legal documents properly drafted by an experienced business lawyer, those documents are more likely to protect your business interests, and not jeopardize them, compared to online template agreements.
If you have any questions or would like to have your legal documents drafted or reviewed, please call us directly at (778) 565-4700 or simply fill out our contact form to schedule a consultation.
Disclaimer: Any information published by Patrola Law is not legal advice and is not intended to address the circumstances of any particular individual or entity. Patrola Law recommends seeking professional legal counsel for your unique business situation.