As a startup, how many logo variations have you created for your brand identity?
Just one? Two? Three?
Startups in today's world have a plethora of options to market their brand. From social media websites to promotional items (e.g. t-shirts & pens), you can put logos practically on anything - even on microscopic nanomaterial!
As your business grows, you'll seek new advertising opportunities to place your logo. Each platform will have its own logo format requirements (size dimensions and file size limits).
If you do use more than one version of your logo for branding, you need to ensure that your entire logo portfolio is protected through trademarks.
The following discusses the types of logo variations your business may use, why you need them, and if it's necessary to trademark all versions in order to fully protect your brand.
Let's dive in!
Type of Logo Variations
A logo variation is an alternative version to your primary logo. Having a full set of logos will give you placement versatility and maximize your potential for brand recognition.
The version you use the most is your primary logo. Below is a checklist of the variations you should have in your portfolio:
Horizontal or wide logo
Vertical/stacked or tall logo
Icon (brandmark)
Wordmark
One colour and reverse (generally all white for coloured backgrounds)
Here's an example of four logo variations currently used by Wendy's: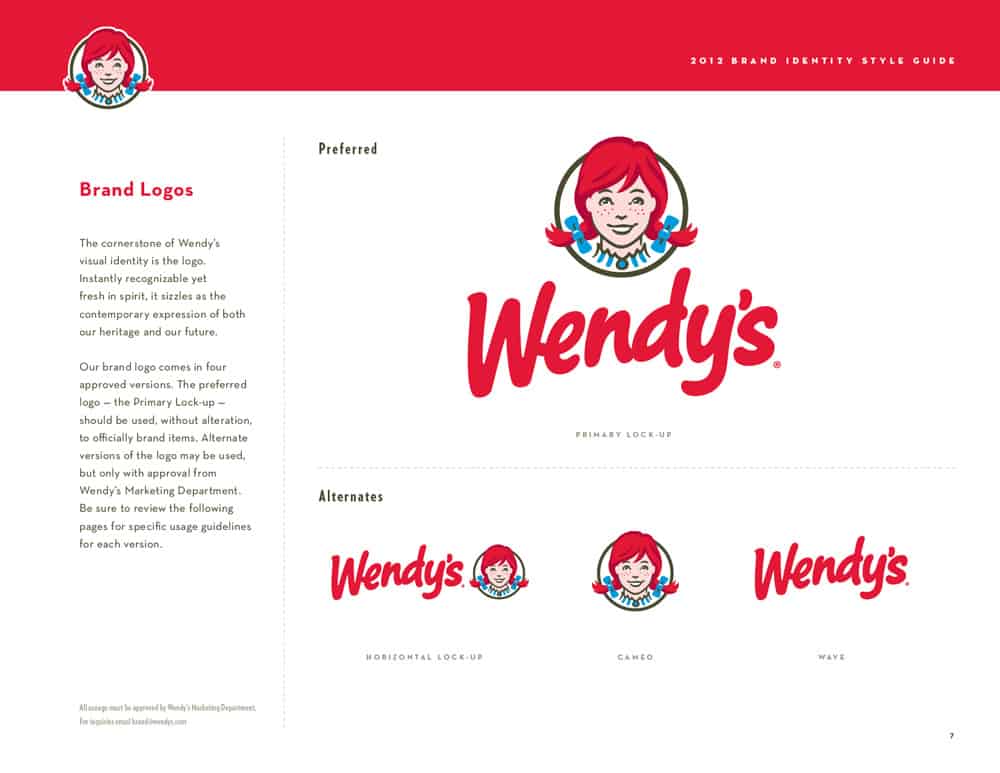 Image source: Parker Moore Design
As you can see in the graphic above, the vertical/stacked version of Wendy's logo is the primary logo used for officially brand items
Wendy's alternate logos consists of a horizontal, icon, and wordmark used for other forms of media where the main logo won't be suitable.
Have questions?
Skip the reading and book a free consultation with a trademark lawyer to discuss protecting your brand.
Why Do You Need Multiple Versions?
As mentioned earlier, creating a family of logos will help you present a cohesive visual representation of your brand across any format or setting.
For example:
You create your website header, letterheads, and business cards where the horizontal version of your logo looks best
You have set up social media profiles such as Instagram and twitter where a stacked version of your logo is more suitable due to its square dimensions.
Your tech company is exhibiting at a conference and decide you'll need USB sticks with your logo on it for giveaways. You can only print them in one colour with very small size dimensions. In this case you determine that your brandmark (icon) would best fit the design requirements
Whether you're placing your logos online or on a promotional product, you must remember using logo variations can come with a level of risk if unprotected by a registered trademark.
Is It Necessary To Trademark ALL Variations?
As suggested by trademark agent Graham Hood at Smart & Biggar:
"Permissible variations of the mark. Under Canada's Trademarks Act, a registered trademark is deemed to be "used" when the trademark (as it appears on the register) is used in association with the goods and/or services that are listed on the relevant registration. The registered owner who decides to use a variation of its design mark – rather than the mark as it appears on the register – is playing with fire because such use may lead to a finding of "non-use," which may in turn lead to the loss of trademark rights. By contrast, the registered owner of a word mark is entitled to use the words that make up the mark in any colour, form, shape, size or style.
In order to avoid a finding of non-use and the subsequent loss of trademark rights, the cautious owner should register each variation of its design mark that it plans to use before using it."
If You Are Using It, Trademark It!
In summary, we outlined what logo variations are and the importance of having them to encompass your entire brand identity.
Startup businesses need to be diligent in protecting their intellectual property rights. We believe having all your in-use logo variations trademarked would greatly increase your brand protection and reduce your risk of trademark infringement.
If you have any questions about starting the trademark process, talk to our intellectual property expert at Patrola Law (778) 565-4700 or simply fill out our contact form to schedule a free consultation.
Have you trademarked your brand yet?
The preceding content is for informational purposes only and does not constitute legal or professional advice. To obtain such advice, please contact our offices directly.
Last updated on March 9th, 2022 at 11:05 am